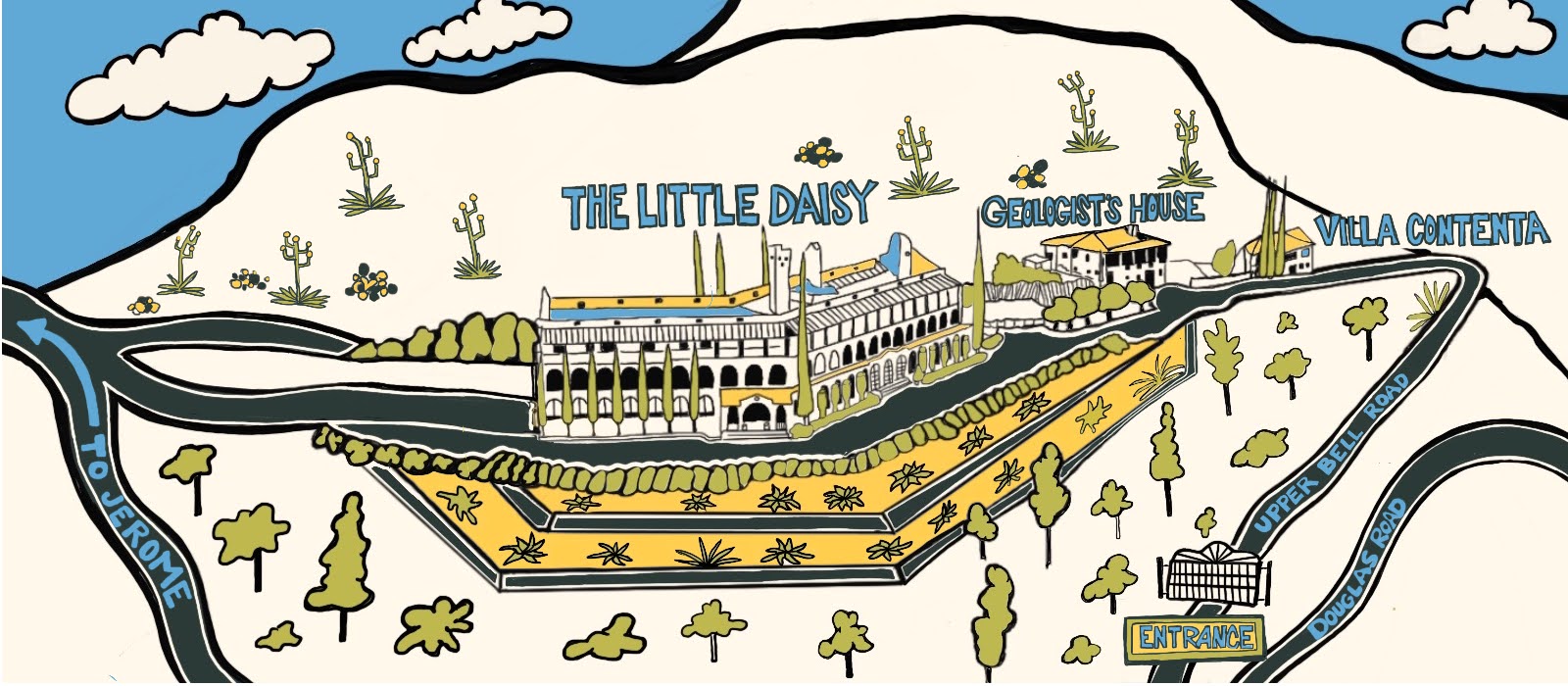 Welcomes over 16 guests, offering 8 bedrooms, 13 beds and 7 baths.
The Little Daisy is over one hundred years old. At 25,000 sq ft, this Arizona mansion was originally a miner's hotel built in 1918 and one of Arizona's most captivating historic properties.
On one side, the picturesque vista of the town of Jerome is peacefully reminiscent of the Mediterranean countryside, while on the other side, breathtaking views take you on a visual journey through Northern Arizona; from the greenery of creeks and rivers populating the Verde Valley, across to the world-renowned Red Rocks of Sedona and Sycamore Canyon, and up to Arizona's highest mountain ranges, the San Francisco Peaks.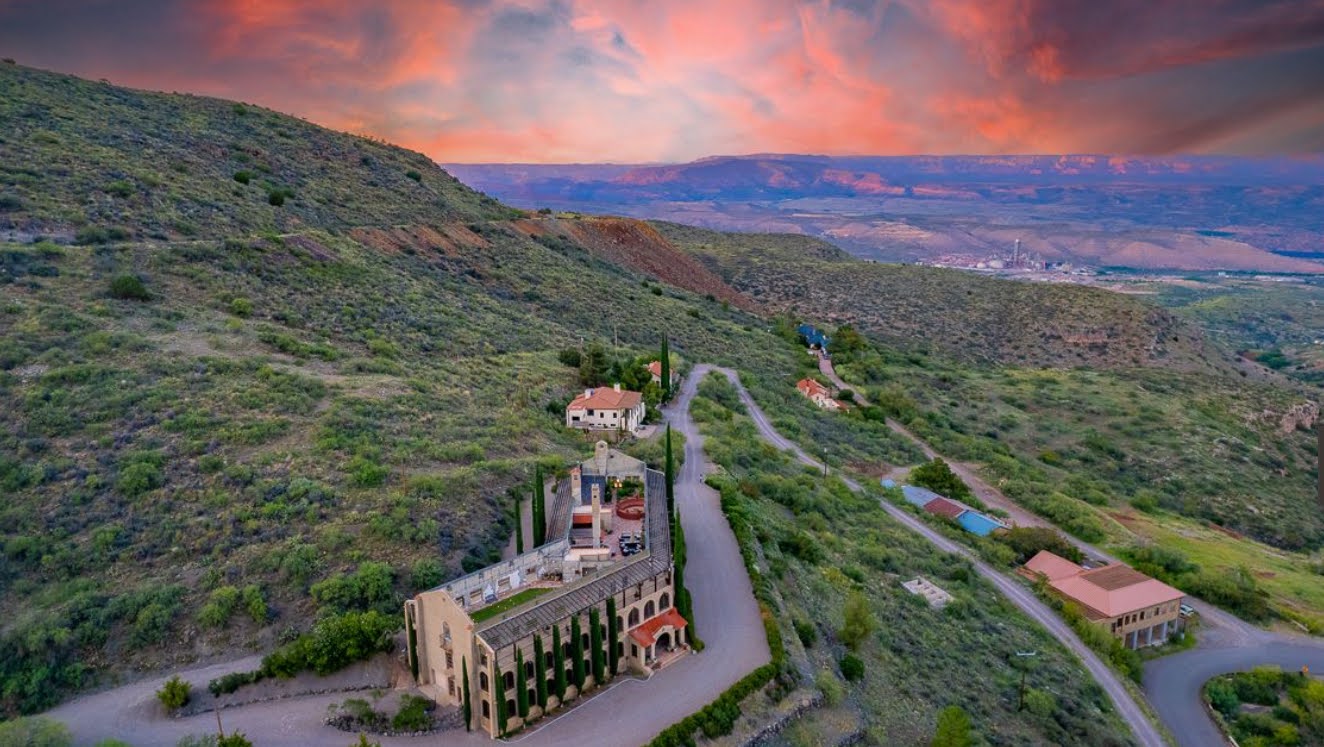 Nestled on a prominent hillside adjacent to the town of Jerome,

The Little Daisy is uniquely positioned to capture panoramic views.
Guests will enjoy private use of the property – with secure gated entry – and its vast array of onsite amenities and facilities. Designed to cater to both group and individual needs while providing unique amenities, activities and opportunities.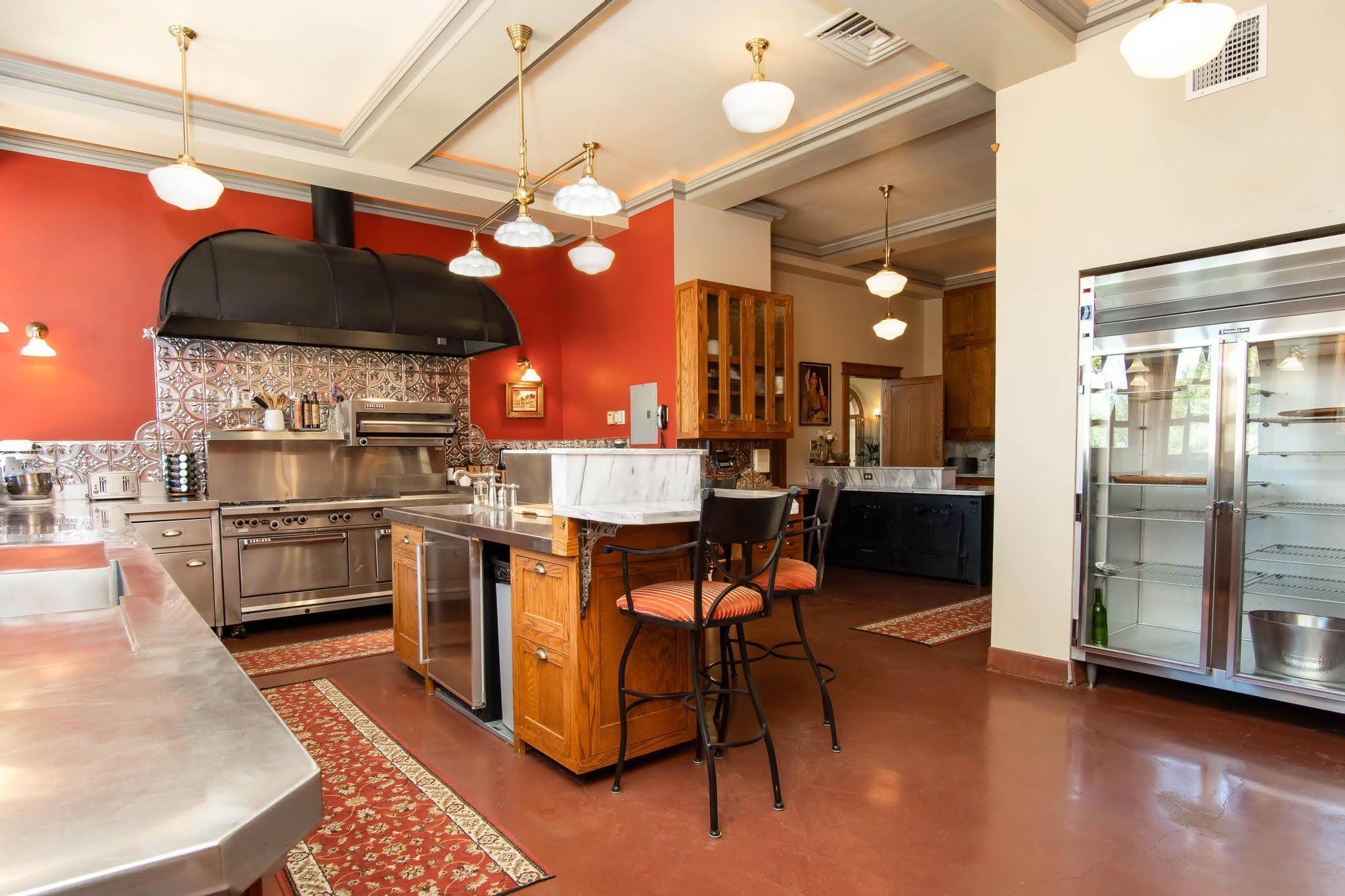 The Ground Level offers a fully equipped chef's kitchen with commercial stove, two ovens, commercial refrigerator, bar fridge, food warmer, and two sinks – perfect for preparing meals that can be served in the grand dining room with seating for up to 18 people. The kitchen patio has outdoor dining, seating and a BBQ grill.
The ground level also includes two powder rooms, a private office/workspace, lounge area and piano. There is a fitness/yoga studio, and an atrium with gym equipment. The Billiards Room features a large theater screen/projector, billiards table, slot machine, lounge seating, and a large fireplace. The Sonos Sound System can be customized to provide music throughout the ground floor.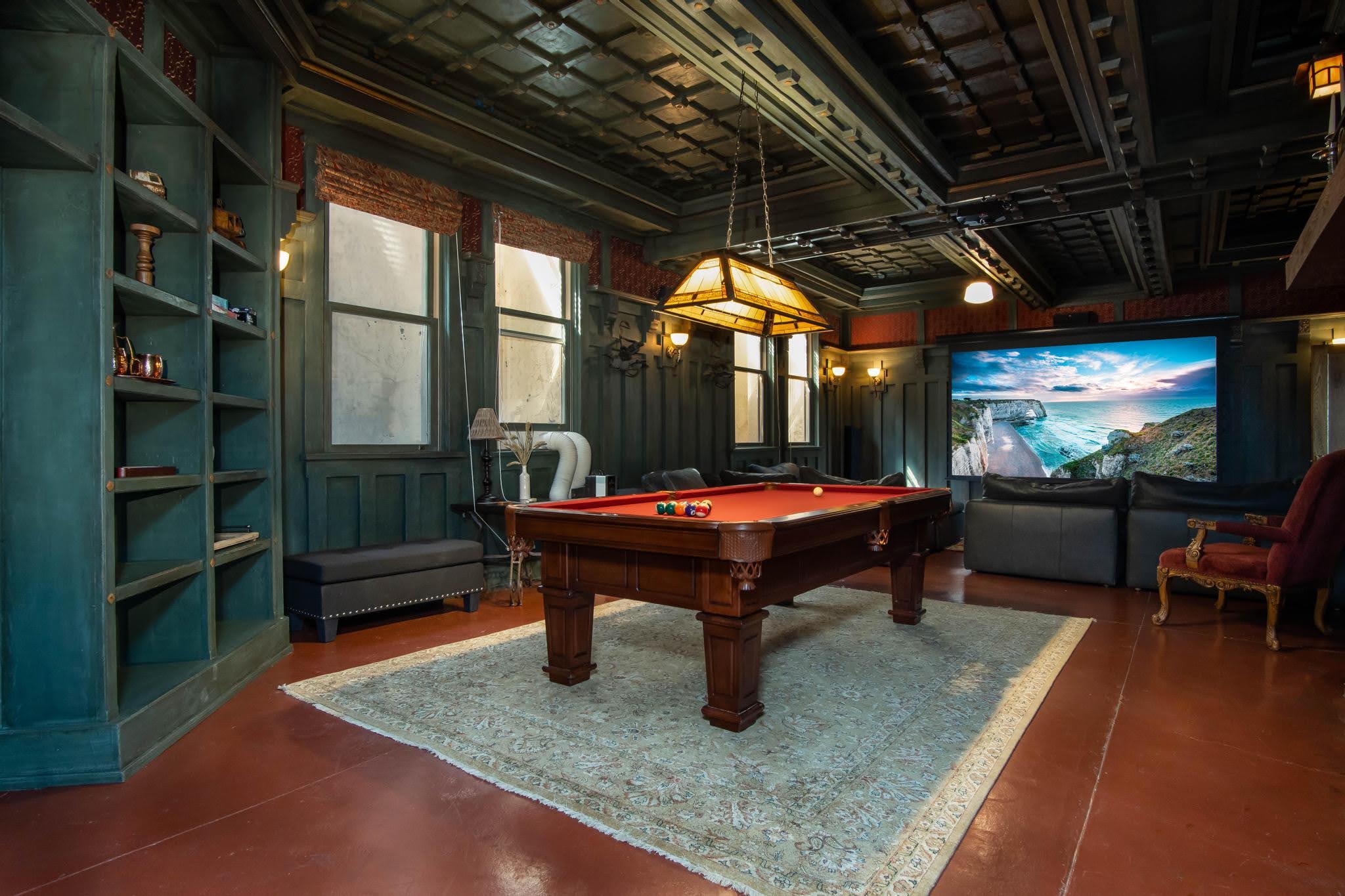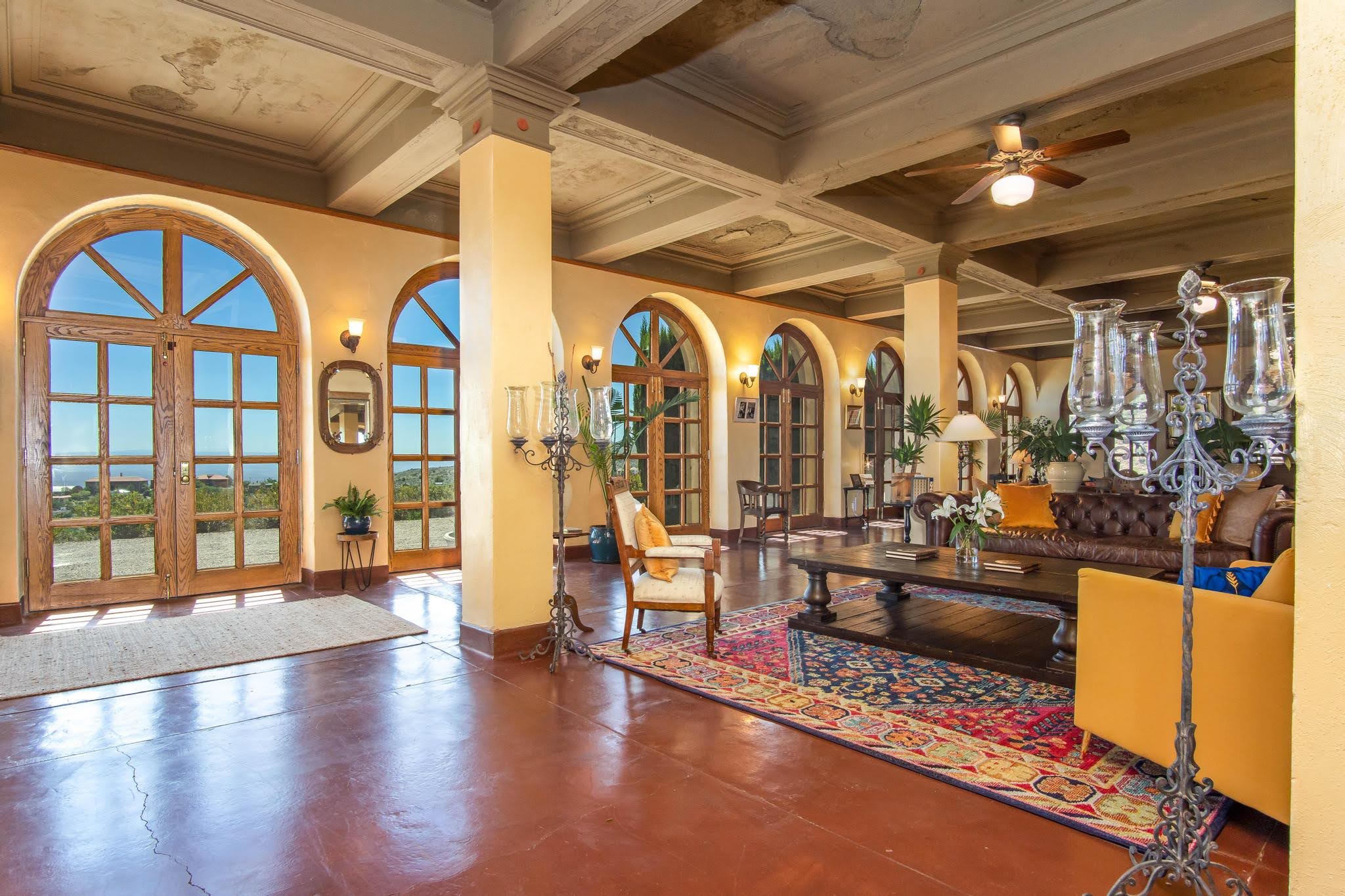 The lobby includes ample seating, a grand piano, and the historically recreated check-in desk and phone booth.
With over 3000 sq ft of internal verandas with sweeping views and ample seating, the second level offers an art studio surrounded by windows and equipped with supplies and materials for guest use. There are plenty of "break-out" spaces and private nooks for quiet conversation or reflection.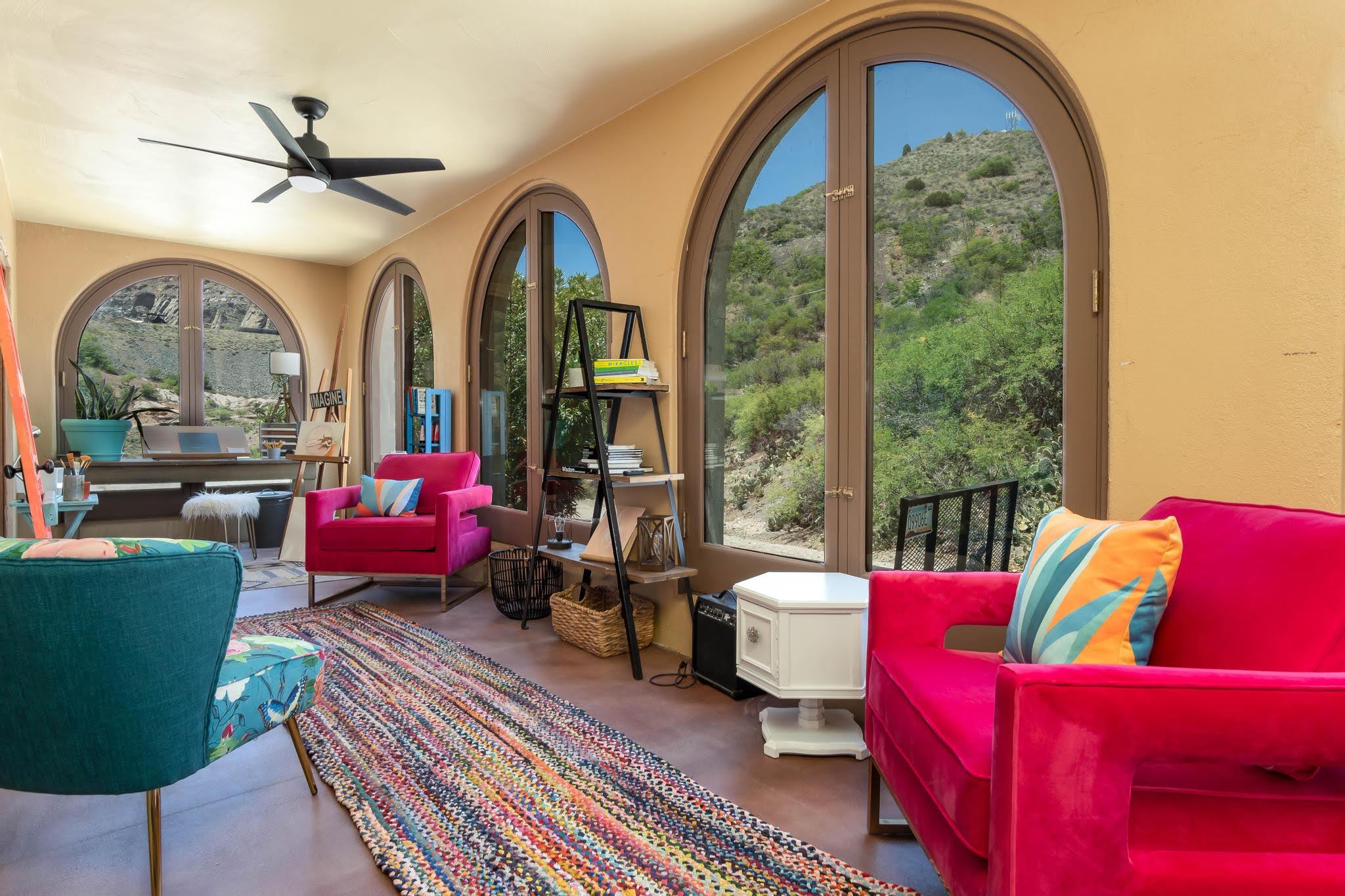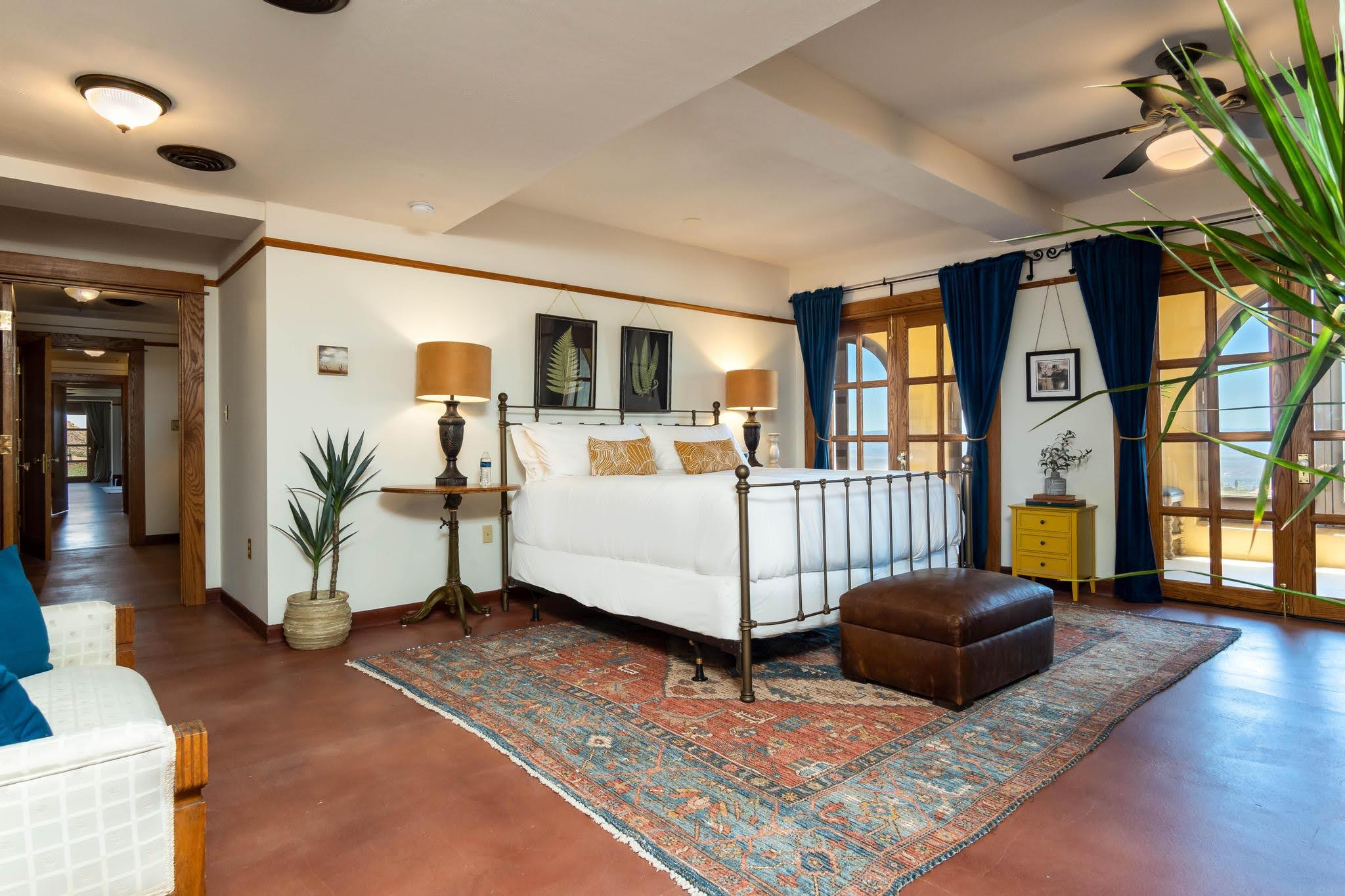 There is a private office as well as co-working space, in addition to lounge space. The second level also offers a kitchenette, reading/library nook, board and card game space. There is a communal Living room with 58′ Smart TV, a record player and Sonos Sound System throughout. It includes eight bedrooms and four full bathrooms and a guest laundry room.
The rooftop offers the best views in Arizona from the expansive wrap around patio with a lawn and seating. The vegetable garden is located on the rooftop as well as a hot tub, outdoor kitchen, BBQ grill, fire pit and communal outdoor lounge. There is a full, open-to-the-sky bathroom in summer months.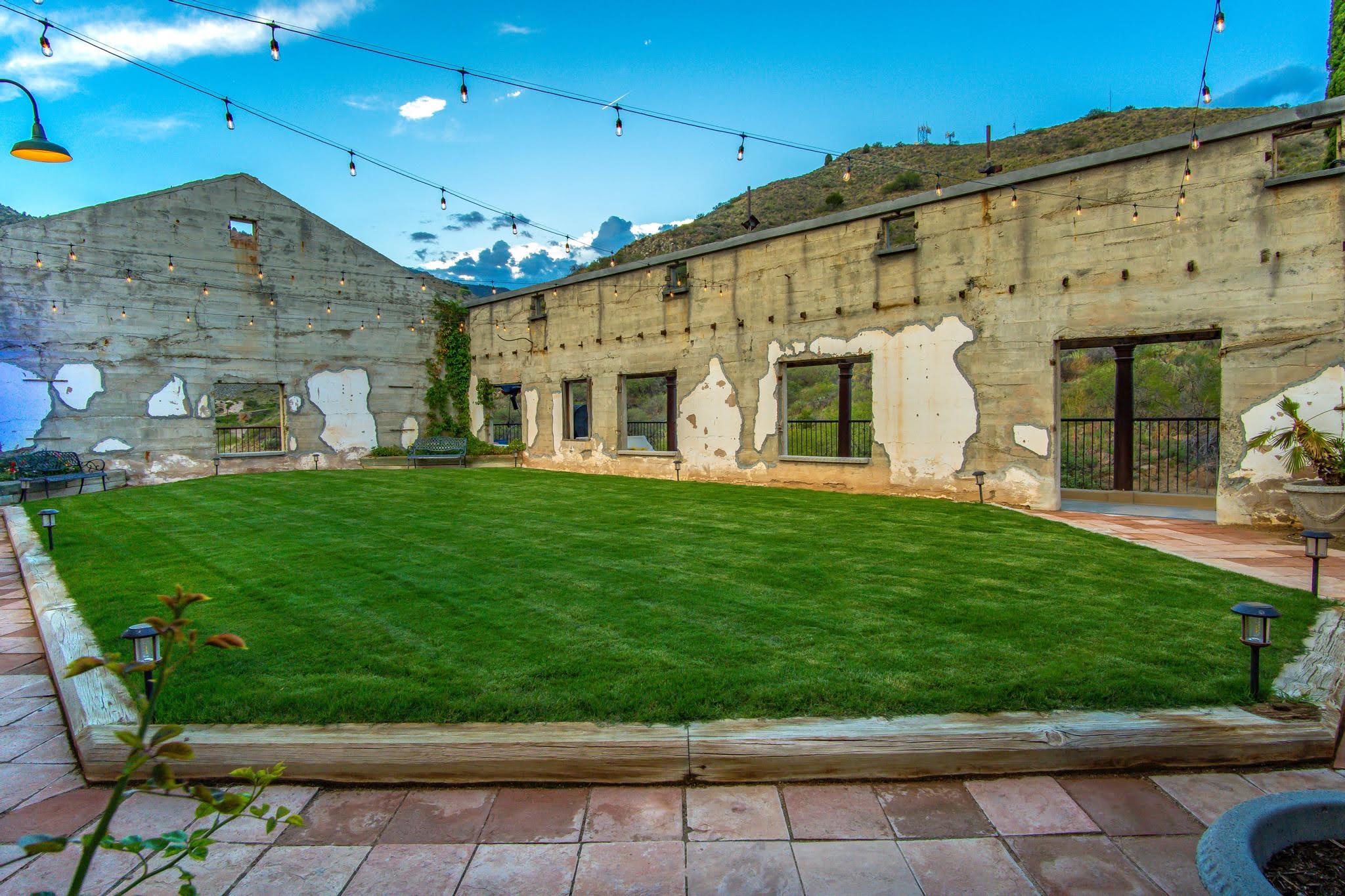 Art is about solving problems,
making the invisible visible.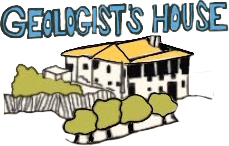 Both the Villa Contenta and The Geologist's House offer a dedicated workspace, self check-in and a location on a private, gated road. They are the perfect get-away-from-it-all hideaways.
Nestled in the mountainside community of Jerome, population 440, The Villa Contenta offers breathtaking views of the red rocks of Sedona, located only 30-minutes away. After a day of exploring, soak in the spacious indoor bath that opens up with three doors to the surrounding views.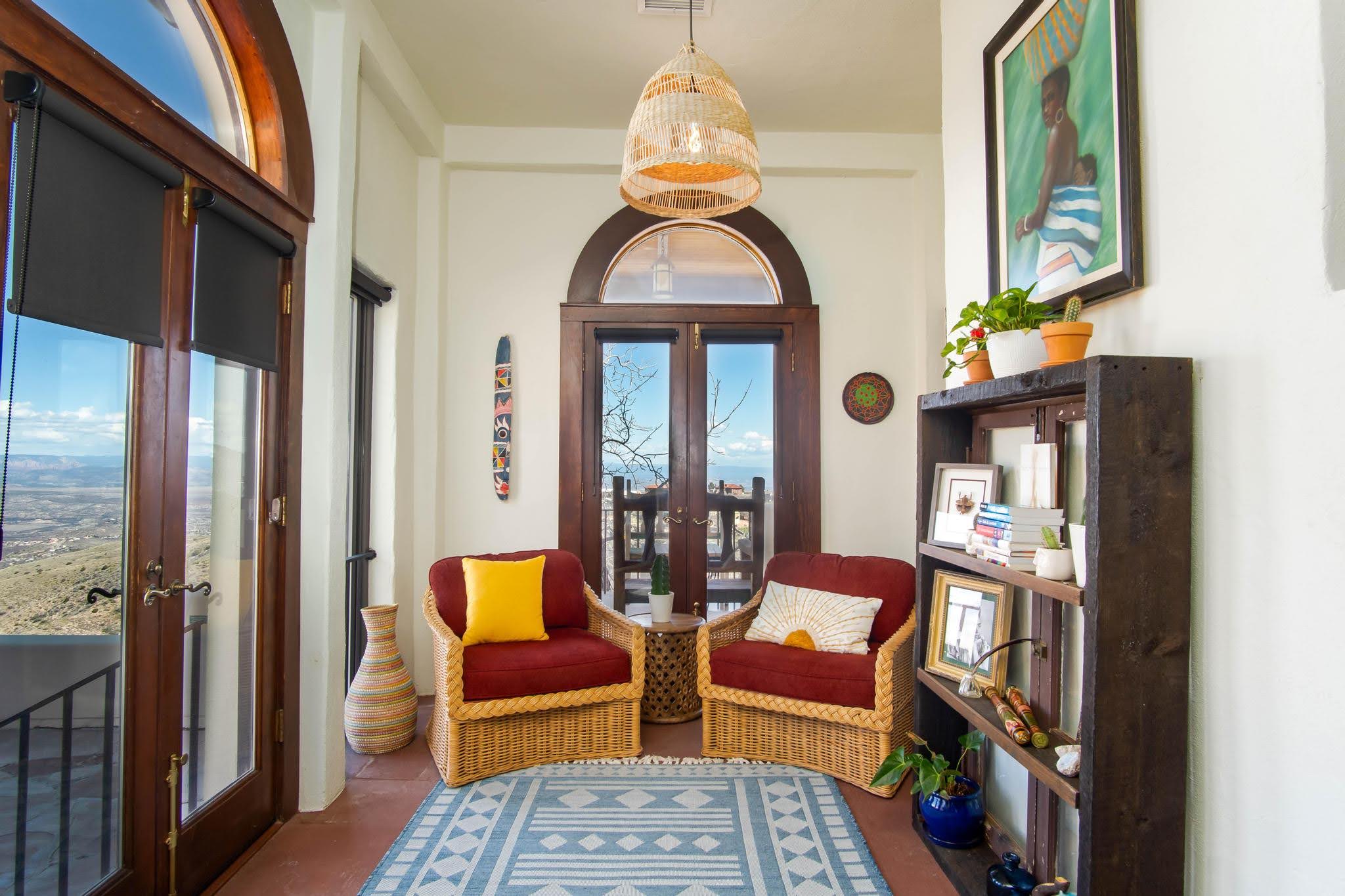 The Geologist House is nestled on a prominent hillside adjacent to the town of Jerome. Uniquely positioned to capture panoramic views of the stunning surrounding landscapes, the Geologist House offers sleeping accommodations for up to eight guests in two bedrooms, and two baths. It can be rented as a whole, or as the upper floor (The Geode) and the lower (the Hidden Gem) floor separately. It offers a full kitchen, an in-unit washer and dryer, Central air, free parking, wifi and more.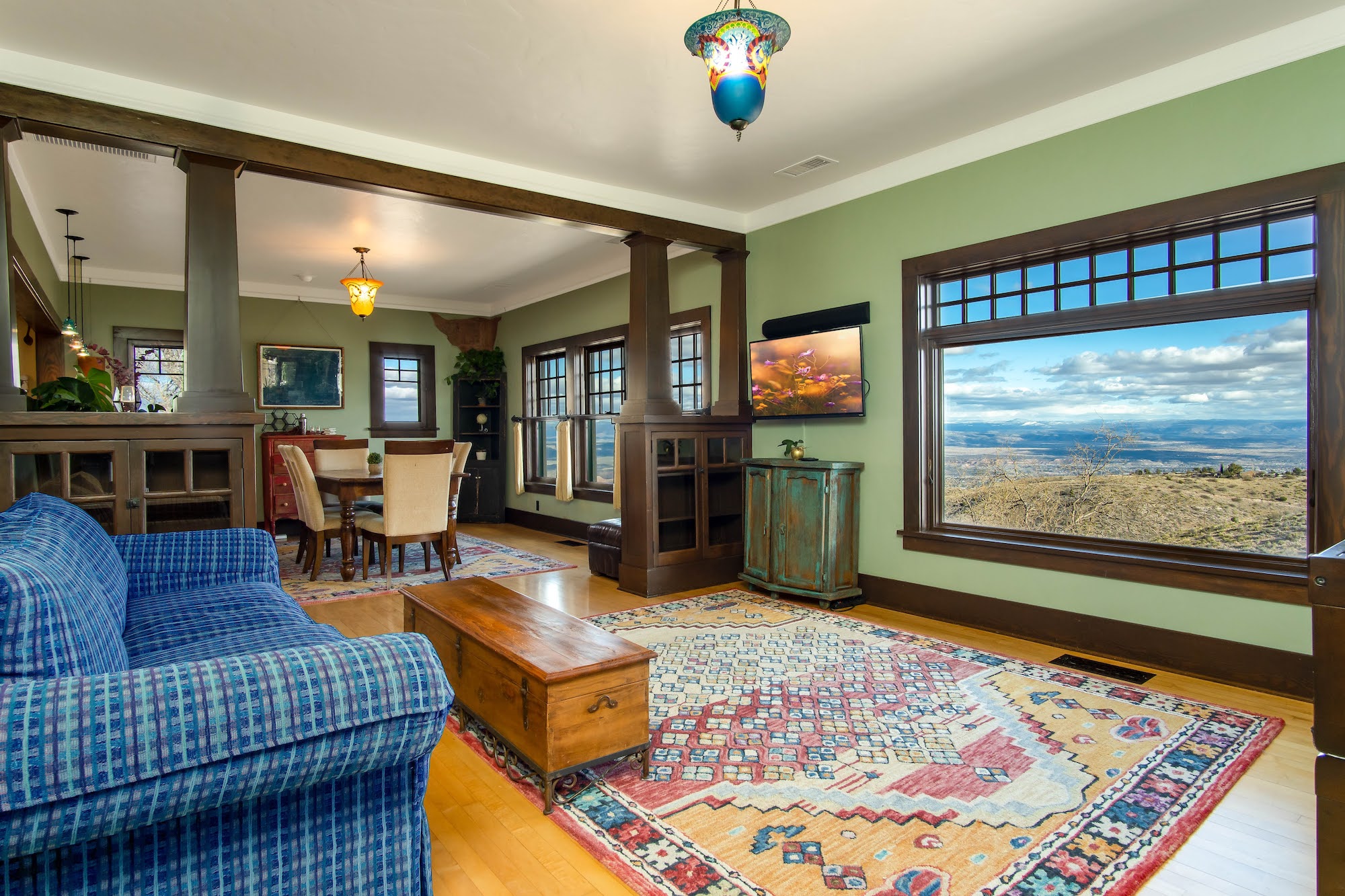 Located next to The Little Daisy, The Villa Contenta offers two bedrooms, three beds and two baths, comfortably sleeping six guests and can be rented as a whole, or the upper (The Perch) and lower (The Poet's Den) floors separately. There is a full kitchen, an in-unit washer and dryer, Central air, free parking and WiFi.
The following services are available:
Private Chefs or Cooks


Massage Therapists
We can also help arrange drivers and transportation to and from Phoenix Sky Harbor, Flagstaff Pulium Airport, and Prescott Regional Airport. These services are also available during your stay for tours or excursions.
Guests have access to the entire property and amenity spaces listed, with the exception of any "Back of House" spaces which are designated accordingly with signage.